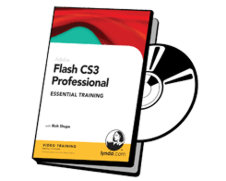 Cosa c'è di nuovo nell'ultima versione di Flash CS3 Professional?
Per scoprire le nuove funzioni dell'ultima versione del programma Adobe ed anche comprendere la migliorata interazione con la vasta gamma di applicazioni creative di Adobe, consiglio di seguire i video corsi prodotti da Lynda.com a cura dell'istruttore Rich Shupe noto flasher autore di Flash 8: Projects for Learning Animation and Interactivity edito dalla O'Reilly.
Sono disponibili gratuitamente ed online ben 93 video con estensione .mov QuickTime  all'indirizzo movielibrary.lynda.com tratti dalla video guida "Flash CS3 Professional Essential Training"  con oltre 8 ore di video divisi in 15 capitoli: Getting Started, Drawing Essentials, Color Essentials, Symbols Essentials, Timeline Essentials, Testing and Publishing Your Files, Image Essentials, Animation Essentials, Text Essentials, Using Filters and Blend Modes, Using Components, Sound Essentials, Video Essentials, Introduction to ActionScript, Putting it All Together.
Pubblicato da paolo di paolo | Categorie: Flash
| 8.857 views